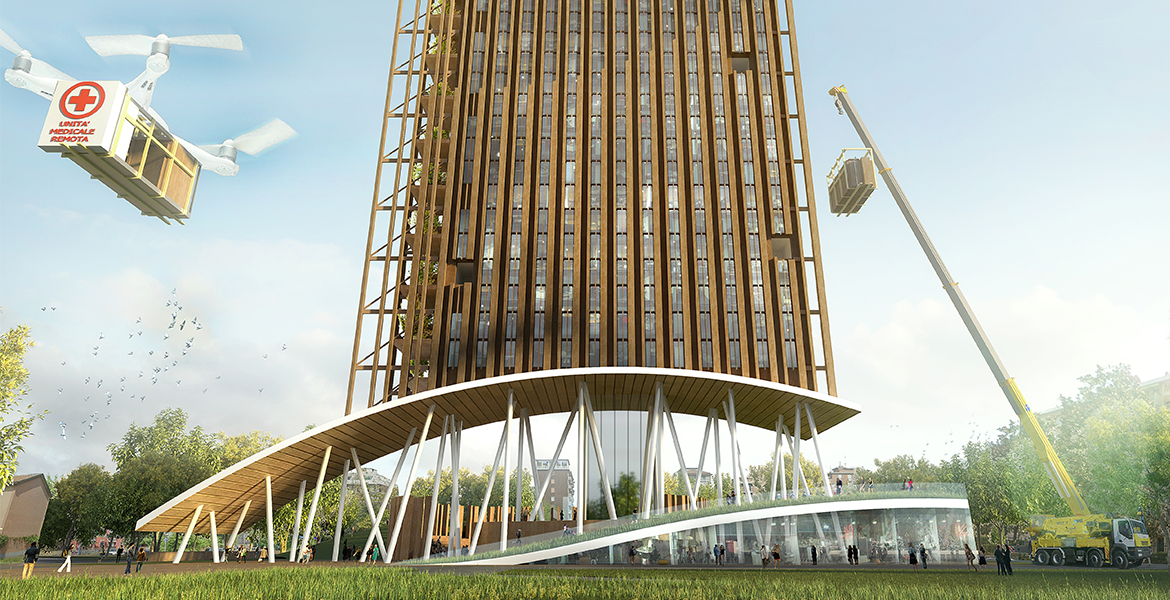 Proxima City Crescenzago
📍 THE PROJECT CONTAINS THE FOLLOWING ASPECTS OF THE PROXIMA CITY PLATFORM:
- flat monthly fee for the integrated living service
- neighborhood housing campus
- temporary residential services
- POD, cluster, hotspot
- mini housing campus
Responsible behavior and proximity relations as an urban resilience strategy.
In recent years, the evolution of housing behavior has tended to overcome the paradigm of the functionalist city based on the division into functional zones connected by commuter movements, in favor of self-sufficient "functionally hybrid" cities, with physical and digital functional premises for work, education, and health services. The urban fabric tends, in fact, gradually and spontaneously to reconfigure itself as an aggregation of "proximity housing campuses".
These campuses can be considered as basic "units of resilience" within a city, integrating different functions, reducing the need to move and the subsequent emissions, for a greater spatial density and a new dimension of living extended to the urban space of proximity.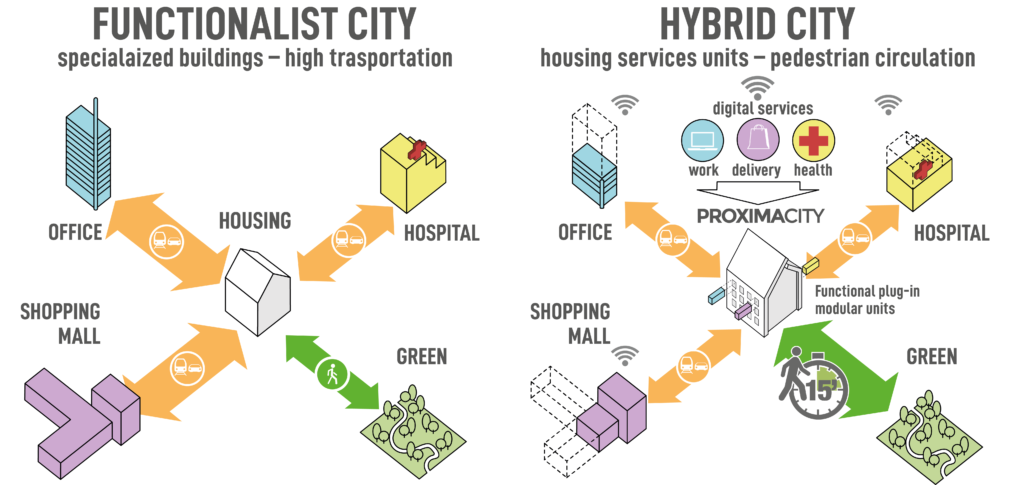 The awareness of the ongoing changes, as evidently accelerated by the coronavirus epidemic, is at the core of the Proxima City project, which aims to rethink urban design by considering behaviors as a key element of achieving resilience and eliminating CO2 emissions.
Proxima City: "responsive behavior" urban resilience unit

The proposal consists of a Proxima City campus, a building system integrated with a dedicated digital platform, that represents the basic technology used to realize a "responsive behavior" housing infrastructure, capable of a real-time adaptation to users' demand and expectations following the evolution of housing behaviors and social relations.
To adapt to the emerging micro-social aggregation structures, the residential typological structure has been redesigned by overcoming the concept of "apartment" linked to a single nuclear family, and divided into four levels that modulate the transition from the most individual sphere to the collective and public sphere: living POD (individual space), living cluster (domestic space), living unit (collective space), living campus (public space). Different levels of use, different functions, and services belong to each level.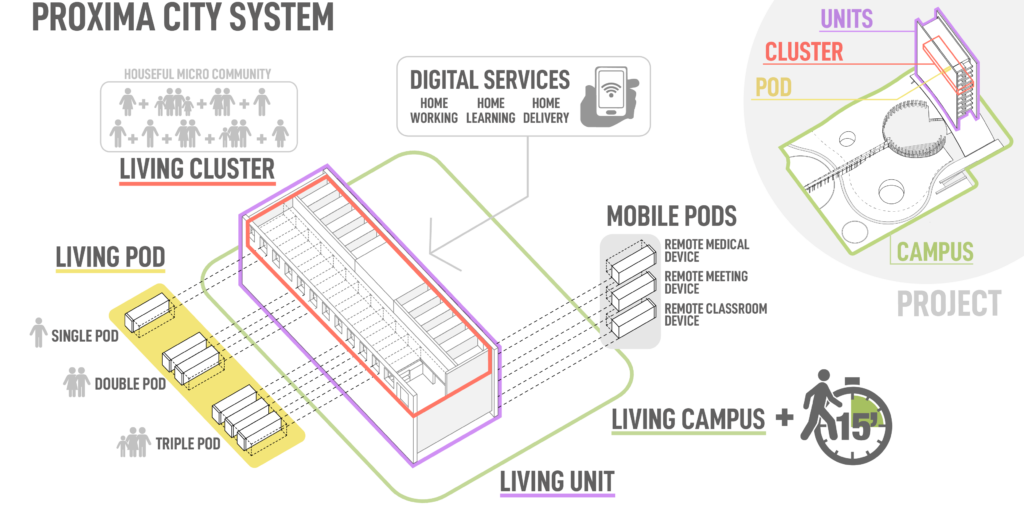 The Proxima City Campus is infrastructured by a fully integrated digital platform (GSM) which makes it possible to manage, control, and supply all housing services through a single APP. The App can be used at different levels and with different interface modes both from the managing staff and from the users whether they are residents or visitors.
Through the interface, users will be able to manage their home services account, control their housing physical space (for residents), and purchase all campus services. But that's not all: to truly elect human behavior as a key factor towards energy self-sufficiency, users' living behaviors in terms of consumption and sustainability will be tracked objectively and measurably thanks to IoT sensing of building systems, fully integrated with the digital platform.
Each user will have real-time awareness of his housing behavior and, by exploiting the methodology of behavioral gamification, will be encouraged to improve it to obtain benefits. These benefits, credited in the form of a virtual currency called "Housecoin", could be then used to buy services within the housing campus. In this way, the usual performance gap between project objectives and surveys in the use phase will be contained and technology will promote the development of virtuous behaviors.
The hybrid modular construction technology

The building design will be developed using a hybrid modular construction system, developed at prototype design level on the basis of which patent application no. 102019000021816 was filed with the Milan Polytechnic University on 21/11/2019. The construction system is consists of an in situ component (mother structure) with a long life cycle (100 years), which houses modular components made industrially extra situ (living device), interchangeable, and with a short life cycle (15/20 years).
The possibility to produce universal living devices industrially and in series is not synonymous with depersonalization: each one can be ordered and customized through the App through a POD configurator. Each user will be able to configure and set up the POD according to their needs, and also integrate modules with special functions (e.g. medical health or even study, laboratory, gym, …).
Also, since the devices can be pulled out at the end of the cycle and replaced, the modular hybrid system enables 40% of the building process to be industrialized and life cycle emissions to be considerably reduced through replacement retrofits and extension of the overall life of the building system.
---
You might also be interested in Joseph Di Pasquale's PhD Research.